mousemeat
A Touch of Brimstone


Joined: 04 Sep 2008
Posts: 4285
Location: Elvis Central, U.S.A.
Posted: Sun Feb 08, 2009 7:00 pm

Post subject: David

---

Has anyone within the forum, heard from David ? I was thinking about him the other night, while surfing his late great Avengers site, What a mother lode of info, it is..concerning the show...mind boggling, to say the least.

like an university education on the show...

I hope he's doing well. and chasing his dreams...
kim
The Ministry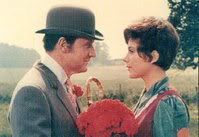 Joined: 31 Aug 2008
Posts: 1838
Location: USA
Posted: Mon Feb 09, 2009 1:39 am

Post subject:

---

The last I had heard from David, he was doing well but very busy with work.
_________________
Every parent has a favorite child. Usually the child belongs to the neighbors.