kim
The Ministry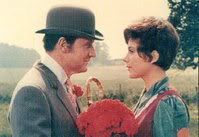 Joined: 31 Aug 2008
Posts: 1838
Location: USA
Posted: Fri Oct 10, 2008 5:15 pm

Post subject: Thank you Helen

---

If you haven't been to Helen's Avenging Taglines site yet, please give it a visit. She has given our humble little forum a place of honor... It's also a fun site to play around in as well. Thanks Helen!

As a side note, check out the websites of some of our other members as well. Just click on Memberlist at the top of the page and then look beside the member's name. Many have listed their websites, so why not take a look around. All of them are very impressive!

Kim
_________________
Every parent has a favorite child. Usually the child belongs to the neighbors.
helenofirvine
Winged Avenger


Joined: 02 Sep 2008
Posts: 531
Location: Lives in Fear of Mods Who Fear BBC
Posted: Fri Oct 10, 2008 5:19 pm

Post subject:

---

Aw, geee, I was just doing some tidying up!

I also liked my link to TAF:
"The Avengers Never-Ever-Say Forever"